'
D

aughter Of Smoke And Bone Trilogy'

I bought the first book in this trilogy by accident. My Mum had a book catalogue that you had to order X number of books from and one month there wasn't anything she particularly wanted so she told me to choose something instead. I picked this book because it had one of the most beautiful covers I had seen in a long time – I didn't notice that it was a new release, hard back edition. All I saw was the pretty.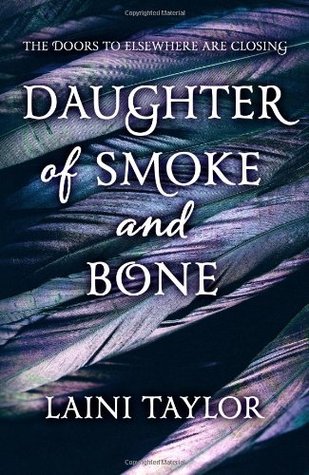 Those softly glowing metallic purple feathers, the slightly whimsical font and the cryptic tagline – I was completely sold before I'd even glanced at the blurb.
I wasn't let down by the contents either, the world Laini Taylor builds in this trilogy is incredible. A brilliant blend of the world we know and worlds we don't held together by the most fantastic cast of characters.
Karou, the main character of the series is one of my favourite characters of all time. She is feisty and self-assured but can also be shy and uncertain when everything gets too much. She loves with everything she is and finds strength in that, even when it seems that everything is too bleak to be resolved.
Taking the age-old premise of Angels and Demons and taking them to a whole different level, Daughter Of Smoke And Bone breaks the 'Angels are good' and 'Demons are bad' stereotypes as well as sticks to them. It is very clever and serves very well to highlight the humanity in both sides – and the total lack of it, too.
I utterly lose myself in these books and their characters, the world is so well built and clear that it is hard not to. Whilst I was reading, I dreamed these worlds and even though I have finished the final book of the trilogy a couple of months ago now, I still dream them and often find myself thinking about the characters and mulling over events in the story. They have firmly stuck in my head and are more than welcome to stay.
I adored the first book so much that I preordered books two and three so that I would get the full set of beautiful hardback covers. They are all stunning with their metallic gleams and incredibly simple but striking details. That and because both the first two books ended on such horrendously gut-wrenching cliff-hangers that I had literally no choice but to order the following books!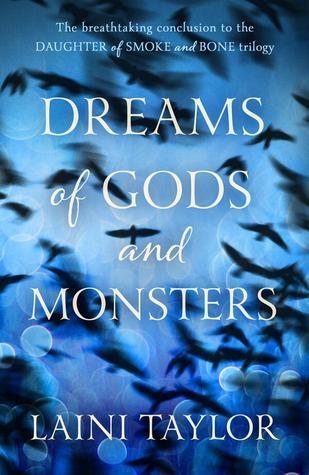 The concluding novel, Dreams Of Gods And Monsters, sat on my bedside table looking pretty for months because I couldn't bear to pick it up and read it and bring the whole adventure to a close. And because I was afraid that I would be disappointed after loving the first two so very much.
When I did finally read it though I was relieved to discover it was just as good as the others. It didn't hold back and pulled a few punches that I really weren't expecting and finished in a way that was completely satisfying and perfect for the story.
I don't want to give the ending away but I thought the reality of the ending was just brilliant – it didn't have the sickly sting of 'and they all lived happily ever after' or a soul destroying ending of doom but a delicate balance somewhere in between.
All I can say is if you haven't picked this series up, then do it. But if you cry at books a lot (like me) then have tissues handy because you're in for a real rollercoaster ride.