'
F

orbidden by Tabitha Suzuma'

When it comes to books that I have recommended the most often, this one is actually quite high up on the list. I lent my copy out a million times until I finally posted it out into the world during a postal book swap event.

It's not a nice book. It's not action-packed or super steamy. It's far from conventional and it is not an easy read. But I do think it is an important and challenging one, written intelligently and powerfully.

You see, Forbidden is a story about incest. Full on, brother and sister incest.

But it isn't disgusting, and it isn't horrible. It is a beautiful, heart-breaking story told in a way that leaves you to make your own decisions and to really think about situations that can happen and the way you judge people.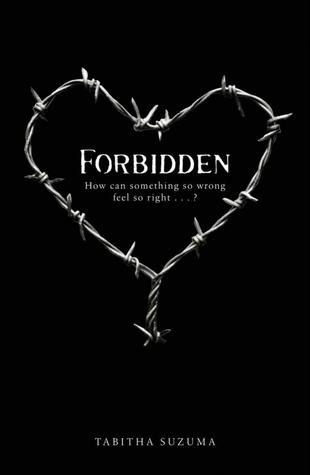 The cover of the edition I had was perfect for the book. Stark and simple but still eye-catching.
You know what you are letting yourself in for from the outset with Forbidden as the blurb is as blunt as the book itself:
Sixteen-year-old Maya and seventeen-year-old Lochan have never had the chance to be 'normal' teenagers. Having pulled together for years to take care of their younger siblings while their wayward, drunken mother leaves them to fend alone, they have become much more than brother and sister. And now, they have fallen in love.

But this is a love that can never be allowed, a love that will have devastating consequences . . .

'How can something so wrong feel so right?'
The home-life depicted in the story is gritty and very real. Maya and Lochan don't have it easy and in taking on the responsibilities of parenting their younger siblings, it is surprisingly easy to see how the relationship between them blurs from siblings to something more.
The writing never gets flowery, it is a love story but not in a way that comes across as a fantasy. This simple but clever technique means that the taboo topic never becomes unbearable to read – deeply uncomfortable, yes, and very unsettling, but never unbearable.
Forbidden was a challenge that I am very glad I read. It made me cry but above all, it made me think. And I have never been quite the same since I read it, purely because it made me look at something I had flatly judged before and see the other side. Forbidden still haunts me even though my well-thumbed copy has disappeared into the unknown.
Another fantastic example of a YA book that really needs to be read by everyone, not just young adults. It might not be a fun read but it is one that you will remember for a long time afterwards.