Lies We Tell Ourselves by Robin Talley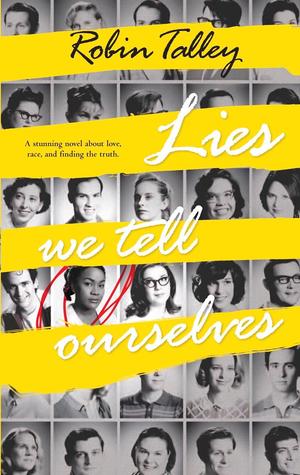 Illustrated by: N/A
Series: N/A

Published: Harlequin Teen, 2014
Edition: Paperback
Print Length: 384 pages
Narrated By: N/A
Genre: Young Adult, Contemporary, Historical Fiction, Romance, LGBT Fiction, Realistic Fiction
Where Did I Get It? I borrowed a copy off Liberty Gilmore
Blurb: In 1959 Virginia, the lives of two girls on opposite sides of the battle for civil rights will be changed forever.
Sarah Dunbar is one of the first black students to attend the previously all-white Jefferson High School. An honors student at her old school, she is put into remedial classes, spit on and tormented daily.
Linda Hairston is the daughter of one of the town's most vocal opponents of school integration. She has been taught all her life that the races should be kept "separate but equal."
Forced to work together on a school project, Sarah and Linda must confront harsh truths about race, power and how they really feel about one another.
Boldly realistic and emotionally compelling, Lies We Tell Ourselves is a brave and stunning novel about finding truth amid the lies, and finding your voice even when others are determined to silence it.
Opening Line(s):
The white people are waiting for us.
---
My Review: From the moment Liberty started reading this book, she started telling me that I needed to read it. She was right.
Lies We Tell Ourselves paints an all too clear picture of how it must have felt when desegregation first began in schools. Talley doesn't hold back and it gets pretty brutal – it was scary thinking all this happened within living memory and pretty much still happens in some places. It showed just how far we have come – racism when I was at school was never said with any more venom than jeers about glasses or getting straight A's. I had to think really hard to even remember any happening – the idea of spitting on a classmate just because their skin was a different colour occurred to me about as much as spitting on someone because their pencil case was blue. It just didn't cross my mind.
But back then it did and Talley transports you there with alarming clarity, not just showing the violence from the pupils at the school but the lack of response from the teachers and the pressure put on the coloured students by their own parents. They were expected to stand up straight and walk on through it even though they were just teenagers at an age when such self-confidence is often low at the best of times. The fact that Sarah and her sister, Ruth, did just that – with a quiet, solid certainty in their step – is utterly remarkable. Their bravery throughout the book, even when they were questioning themselves was inspiring and the fact that society is where it is today proves that there were some real Sarah and Ruths out there when it was all happening.
Having Sarah and Linda battling with feelings for each other as well as trying to overcome their differences with regards to race was a brilliant twist to the plot. It brought depth to the story that a mere friendship couldn't have done – the hurdle they had to climb was much larger and much more emotionally charged.
The extra challenges this relationship brought in regards to Sarah accepting herself were particularly poignant as she struggled to reconcile her feelings with her strong religious beliefs. In our current society, where the war of same-sex marriage is still being constantly fought all over the world, this storyline feels very relevant and makes it even easier to relate to. The fact that Sarah finds peace with herself and trusts that God made her as she is and therefore loves her regardless will hopefully bring reassurance to some who read the book – I felt it was sensitively and cleverly covered.
I remember Noughts and Crosses causing a storm when it came out whilst I was at school and I think Lies We Tell Ourselves is even better and will hopefully get as much attention – it is a powerful novel and, I think, an important one for teaching acceptance and tolerance in all things.
My Rating: 5/5*

---