Smiler's Fair by Rebecca Levene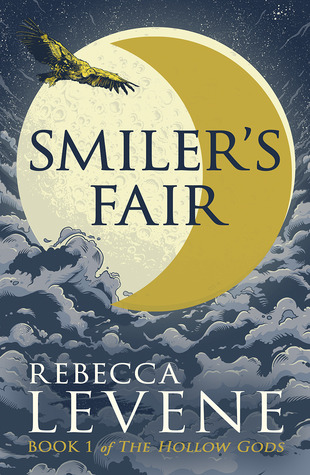 Illustrated by: N/A
Series: The Hollow Gods (Book #1)

Published: Hodder, January 2015
Edition: Paperback
Print Length: 404 pages
Narrated By: N/A
Genre: Adult Fiction, Epic Fantasy, Fantasy, Mythological Fiction
Where Did I Get It? I kindly received a copy from the publisher via Bookbridgr in return for this review.
Blurb: Yron the moon god died, but now he's reborn in the false king's son. His human father wanted to kill him, but his mother sacrificed her life to save him. He'll return one day to claim his birthright. He'll change your life.
He'll change everything.
Smiler's Fair: the great moving carnival where any pleasure can be had, if you're willing to pay the price. They say all paths cross at Smiler's Fair. They say it'll change your life. For five people, Smiler's Fair will change everything.
In a land where unimaginable horror lurks in the shadows, where the very sun and moon are at war, five people – Nethmi, the orphaned daughter of a murdered nobleman, who in desperation commits an act that will haunt her forever. Dae Hyo, the skilled warrior, who discovers that a lifetime of bravery cannot make up for a single mistake. Eric, who follows his heart only to find that love exacts a terrible price. Marvan, the master swordsman, who takes more pleasure from killing than he should. And Krish, the humble goat-herd, with a destiny he hardly understands and can never accept – will discover just how much Smiler's Fair changes everything.

Opening Line(s):
Samadara felt the baby kick shift, a sudden pressure against her bladder. He was nearly ready to leave her and she had run out of time to save him.
---
My Review: Epic fantasy was my favourite genre for years. Then I had kids and suddenly I found them hard to read because I couldn't dedicate the same concentrated time to them as I used to. I found listening to them on audiobook worked well when I was doing the housework but it somehow wasn't quite the same. I haven't picked up a physical book copy of an epic fantasy in quite a while.
Then I got sent Smiler's Fair and I remembered what I'd been missing. The opening chapter was just brilliant. Graphic and unrelenting but brilliant and I was immediately hooked.
It took a little while to get into the swing of the story – there are several main characters, all with their own stories to tell, and this means that at first it all feels a little disjointed. You get a good picture of the world they live in from all different angles but it takes a couple of chapters from each character before you really get sucked in.
The characters themselves are great – all vibrant and very different. My favourites are Dae Hyo and Eric. Dae Hyo because he is head-strong and bullish but also loyal and fierce and smart despite his drinking habits, Eric because he is, for me, the most human character of them all. He's imperfect and he knows it but he has dreams of better things even when nothing is working out. And he's funny.
The character's stories interweave cleverly – some meeting early on, some paths never crossing. There was a lot going on but I never lost track even though I had to keep putting it down and just grabbing five minutes reading time here and there.
The Hollow Gods world is well thought through and full of both the familiar and the strange. I loved the vastness of it and the details of every part the characters visited. From the grassy plains to the strange, snowy north lands each location was alive and vibrant – so often in epic fantasy the landscape can blur into the background but in Smiler's Fair it was always there almost as another character in each scene.
Smiler's Fair has reawoken my love of epic fantasy and dragged me out of my reluctance to pick them up. Now I can't wait for The Hunter's Kind to come out so I can find out what happens next. Plus the cover looks awesome so I need it on my shelf to look pretty next to Smiler's Fair.
My Rating: 5/5*

---