Another month, another list or two to blithely ignore. Probably.
I have no idea how to feel about this coming month – the chaos of everything reopening, or not reopening – has me a little anxious, so I don't know how much reading I will be able to settle into. But we will see how it goes!
Already Started
Read with Pride (The Paper & Hearts Society #2) by Lucy Powrie: I really enjoyed the first book in this series and the second one is just as fun so far. They have excellent LGBT representation, are easy to read, and are very sweet. Real feel-good reads. I have almost finished it, so it shouldn't bee too much of an overlap.
TBR – Books
All The Things We Never Said by Yasmin Rahman: I bought this because the blurb reminded me of the play my friends and I wrote and performed for our A-level drama course. Also I had heard good things about it from a few different places and failed to not buy it.
Romanov by Nadine Brandes: Despite my usual avoidance of historical fiction, I entered approximately four hundred and eighty three different competitions to win a copy of this when it was released, and won none of them. My childhood fascination with the Romanovs – born from watching Anastasia on repeat for years, obviously – never really went away so I reeeeeeally wanted to get my paws on this. Luckily, Liberty won one instead, so now she has read it, I have stolen her copy to read. Finally.
Lies Sleeping by Ben Aaronovitch: The next instalment of Rivers Of London. I haven't read one since April, so I need to get on it!
Shadowsea by Peter Bunzl: The final book in the Cogheart Adventures series, Tori has read it and tells me it's the best yet so I am quite looking forward to it.
Lost Soul by Adam J. Wright (AudioBook): Confession – I only got this because it is narrated by Greg Tremblay and he's one of my favourite audiobook narrators. I have no idea what the book is about. Excited for another five hours of his voice though – he could probably read takeaway menus out for the whole thing and I'd be happy.
TBL – Podcasts
We Need To Talk About The British Empire by Afua Hirsch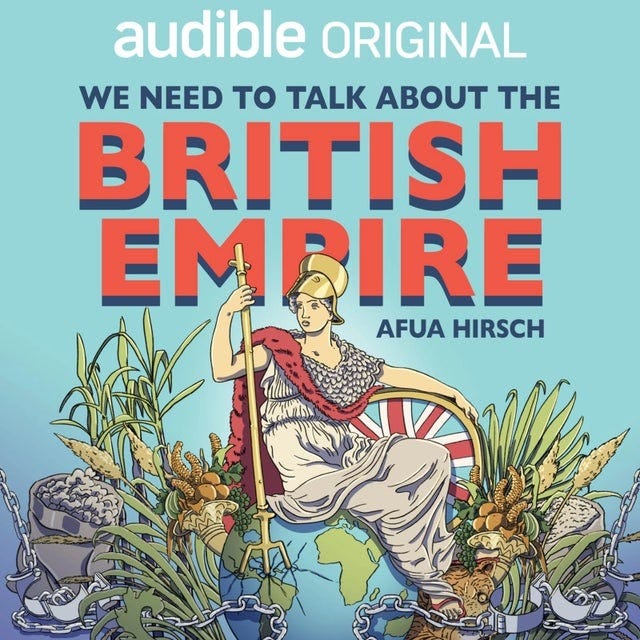 My chosen thing to educate myself with this month, is this podcast by Afua Hirsch. Following on from Why I'm No Longer Talking To White People About Race, I am looking forward to learning some more uncomfortable history lessons and expanding my knowledge about the less-pleasant side of the history of the country I call home.
In We Need To Talk About The British Empire, Hirsch speaks to six people about their family history and how their lives have been impacted by the British Empire.
"We rarely hear the stories of the colonised. It's the voices of the colonisers that have shaped our ideas of British empire."

Afua Hirsch
I want to learn more about the British Empire, not about the 'glory' or 'triumphs' but the honest truth about how we, as a white nation, became so rich and powerful. Because if you stop and think about it, most of the world speaks the language of a piddly little island in the middle of nowhere, and that makes no sense. Not unless the inhabitants of said island did some pretty hefty acts of throwing their weight around – which we did, even if we never talk about it.
We can't learn from the past if we don't remember it. Hopefully this podcast with teach me a little more.