Elizabeth Is Missing by Emma Healey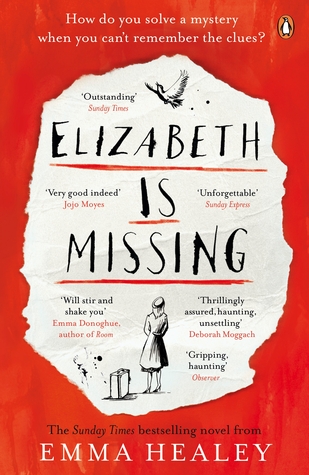 Illustrated by: n/a

Series: n/a

Published: January 1st 2015, Penguin Books
Edition: Paperback, Waterstones Book Club Edition
Length: 275 pages
Narrated By: N/A
Genre: Fiction, Contemporary, Mystery, Mental Health, Crime, Realistic
Where Did I Get It? I borrowed a copy from a friend.

Blurb:
Meet Maud.
Maud is forgetful. She makes a cup of tea and doesn't remember to drink it. She goes to the shops and forgets why she went. Sometimes her home is unrecognizable – or her daughter Helen seems a total stranger.
But there's one thing Maud is sure of: her friend Elizabeth is missing. The note in her pocket tells her so. And no matter who tells her to stop going on about it, to leave it alone, to shut up, Maud will get to the bottom of it.
Because somewhere in Maud's damaged mind lies the answer to an unsolved seventy-year-old mystery. One everyone has forgotten about.
Everyone, except Maud . . .
Opening Line(s):
"You know there was an old woman mugged around here?" Carla says, letting her long, black ponytail snake over one shoulder. "Well, actually, it was Weymouth, but it could have been here. So you see, you can't be too careful. They found her with half her face smashed in."

This last bit is said in a hushed voice, but hearing isn't one of my problems. I wish Carla wouldn't tell me these things; they leave me with an uneasy feeling long after I've forgotten the stories themselves. I shudder and look out of the window. I can't think which direction Weymouth is in. A bird flies by.

"Have I got enough eggs?"
---
My Review: I don't really know where to start with this review. Elizabeth Is Missing is a book unlike any other I have read before.
Maud, the narrator, is unreliable due to her dementia which seems to worsen through the story, but is the most delightfully sweet character. Seeing the world through her eyes was fascinating and a little terrifying.
Somewhere in Maud's memory is the key to her sister Sukey's disappearance, clues that never got pieced together in the right order at the right time, but the disappearance of her friend Elizabeth triggers recollections that begin to form answers to questions long forgotten.
The logic that her mind follows throughout events as she forgets things, half-remembers other things, muddles them up and then produces an answer that is utterly unrelated to the original issue but makes a strange sort of sense regardless was amazing but scary.
Maud's clear recollections of the past, bleeding into the fuzziness of her present are beautiful and the two stories running alongside each other – her past and her present – were heartbreaking. Sukey is missing. Elizabeth is missing. Two mysteries, one forgotten by other people years ago, one forgotten repeatedly by Maud herself every single day.
Through Maud's daughter, Helen, you see how tough it is for families to live through dementia – the frustrations, the worry, the fear and the sadness. But you also see how healing love and patience can be.
Bittersweet, intriguing and often charming and funny – Elizabeth Is Missing was a brilliant twist on your usual murder mystery and one I would seriously recommend picking up
My Rating: 5/5*
---
Buy Elizabeth Is Missing on Amazon here
---

CaroleHeidi
has
read 29 books toward
her goal of
52 books.