One Italian Summer by Keris Stainton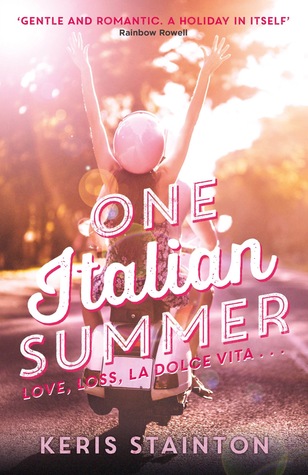 Illustrated by: n/a

Series: n/a
Published: May 2017, Hot Key Books
Edition: Paperback
Length: 241 pages
Narrated By: N/A
Genre: Fiction, Young Adult Fiction, YA, Romance, Holiday Fiction, Summer Fiction, Contemporary Fiction
Where Did I Get It? I preordered myself a copy because Keris is awesome and that cover is delicious!

Blurb: Milly loves her sisters more than anything – they are her best friends. But this holiday is different. The loss of their dad has left a gaping hole in their lives that none of them know how to fill. Heartbreak is a hard thing to fix …
Still, there is plenty to keep the girls busy in Rome. A family wedding. Food, wine, parties and sun. And of course Luke …. Luke is hot, there is no way around that. And Milly will always have a crush on him. But this summer is about family, being together, and learning to live without Dad. It isn't about Luke at all … is it?
Opening Line(s):
"Do you want to dip your finger in Dad?" my older sister, Elyse, asks, holding out the small clay pot containing her share of our father's ashes.

"God, Elyse!" I shriek, jumping backwards.

"Elyse, no one wants to do that apart from you," my younger sister, Leonie, says. She's got the same expression on her face as I imagine on mine.
---
My Review: One Italian Summer is beautiful, heartbreaking, hilarious and thoughtful – I would say it's the perfect book to take on holiday and read on the beach but it had made me cry twice before I got to page 35 so that would maybe only work if a) you have big sunglasses or b) you're okay with crying in public. (Note, I was reading it in a hospital waiting room and I didn't have sunglasses on…)
A story of life after loss, of family and friendship and all the different ways love can hurt and heal, One Italian Summer made me feel all warm and fuzzy inside (apart from when it was breaking my heart) and left me feeling a little bit like I had been on holiday too.
One of Keris' strengths is her characterisation – all of the characters in her books are very human. It would have been very easy for this story to either have become depressingly mopey or to have been irritating with the characters switching their grief on and off for romantic/funny moments but Keris holds the balance perfectly. It is almost painfully honest at times but that means that by the end, the whole book feels very cathartic and satisfying.
I cried and I laughed out loud, One Italian Summer is an emotional but brilliant read that is perfect for a sunny afternoon. It is also the perfect excuse for ice cream. You should really read it with ice cream.
My Rating: 5/5*
---
Buy One Italian Summer on Amazon
Follow Keris Stainton on Twitter (No, really, go follow her. She's super lovely and funny, she'll make your day 🙂 )
---

CaroleHeidi
has
read 37 books toward
her goal of
52 books.
https://www.goodreads.com/user_challenges/widget/3909842-caroleheidi?challenge_id=5493&v=2