Every year I get to December and try to compile a Top 10 Books list. Every year I say to myself I won't do it again because it's too hard.
I'm doing it again.
In 2017 I have read to completion 65 books, given up on 4 others and am currently reading a further 4 that are going to end up being my first reads of the new year. My target for the year was to finish 52 books so I smashed that which is awesome.
Now, for my Top 10 I yet again can't actually put them in order because they're all different genres and I liked them all for different reasons. So I'm just going to list them randomly and un-numbered (but there are 10 – I have double checked!)
3 minutes and 4 seconds. The length of time every teenager is 'Called', from the moment they vanish to the moment they reappear. 9 out of 10 children return dead. Even the survivors are changed. The nation must survive. Nessa, Megan and Anto are at a training school – to give them some chance to fight back. Their enemy is brutal and unforgiving. But Nessa is determined to come back alive. Determined to prove that her polio-twisted legs won't get her killed. But her enemies don't just live in the Grey Land. There are people closer to home who will go to any length to see her, and the nation, fail…
La Belle Sauvage (Book Of Dust: Vol. 1) by Philip Pullman
Philip Pullman returns to the world of His Dark Materials with this magnificent new novel, set ten years before Northern Lights and featuring his much-loved character, Lyra Belacqua.
Eleven-year-old Malcolm Polstead and his dæmon, Asta, live with his parents at the Trout Inn near Oxford. Across the River Thames (which Malcolm navigates often using his beloved canoe, a boat by the name of La Belle Sauvage) is the Godstow Priory where the nuns live. Malcolm learns they have a guest with them; a baby by the name of Lyra Belacqua . . .
Nine students. Three bloodsports. One deadly weekend.
It is the autumn term and Greer MacDonald is struggling to settle into the sixth form at the exclusive St. Aidan the Great boarding school, known to its privileged pupils as S.T.A.G.S. Just when she despairs of making friends Greer receives a mysterious invitation with three words embossed upon on it: huntin' shootin' fishin'. When Greer learns that the invitation is to spend the half term weekend at the country manor of Henry de Warlencourt, the most popular and wealthy boy at S.T.A.G.S., she is as surprised as she is flattered.
But when Greer joins the other chosen few at the ancient and sprawling Longcross Hall, she realises that Henry's parents are not at home; the only adults present are a cohort of eerily compliant servants. The students are at the mercy of their capricious host, and, over the next three days, as the three bloodsports – hunting, shooting and fishing – become increasingly dark and twisted, Greer comes to the horrifying realisation that those being hunted are not wild game, but the very misfits Henry has brought with him from school…
English Passengers by Matthew Kneale
Determined to prove the literal truth of the Bible against atheist geologists, the Reverend Geoffrey Wilson sets out from England, in the summer of 1857, with an expedition of to find the Garden of Eden, which he is convinced lies on the island of Tasmania. Unknown to him, others in the party have very different agendas, notably the surgeon, Dr Potter, who is developing a revolutionary and sinister thesis of his own on the races of man. To complicate matters further, the ship Wilson has hurriedly chartered, crewed by Captain Kewley and his secretive Manxmen, is in fact an ill-starred smuggling vessel, its hidden compartments filled with contraband, brandy and tobacco.
As the vessel journeys haplessly southwards, in Tasmania itself an Aboriginal names Peevay recounts his people's struggle against the invading British, who prove as lethal in their good intentions as in their cruelty. This is no Eden but a world of hunting parties and colonial ethnic cleansing. As the English Passengers near Peevay's land, their bizarre notions ever more painfully at odds with reality, it grows clear that a mighty collision is approaching.
English Passengers is narrated by over twenty characters, each so distinct that the effect is of a story not so much told as peopled. In a storm of hugely entertaining voices it brings a past age to vivid and memorable life.
Some secrets change the world in a heartbeat. . . .
Lily's life is in mortal peril. Her father is missing and now silver-eyed men stalk her through the shadows. What could they want from her?
With her friends—Robert, the clockmaker's son, and Malkin, her mechanical fox—Lily is plunged into a murky and menacing world. Too soon Lily realizes that those she holds dear may be the very ones to break her heart. . . .
Murder, mayhem and mystery meet in this gripping Victorian adventure.
Strange The Dreamer by Laini Taylor
The dream chooses the dreamer, not the other way around—and Lazlo Strange, war orphan and junior librarian, has always feared that his dream chose poorly. Since he was five years old he's been obsessed with the mythic lost city of Weep, but it would take someone bolder than he to cross half the world in search of it. Then a stunning opportunity presents itself, in the person of a hero called the Godslayer and a band of legendary warriors, and he has to seize his chance or lose his dream forever.
What happened in Weep two hundred years ago to cut it off from the rest of the world? What exactly did the Godslayer slay that went by the name of God? And what is the mysterious problem he now seeks help in solving?
The answers await in Weep, but so do more mysteries—including the blue-skinned goddess who appears in Lazlo's dreams. How did he dream her before he knew she existed? And if all the gods are dead, why does she seem so real?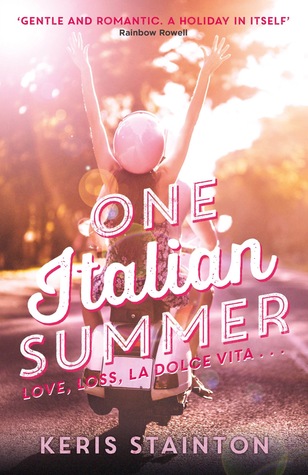 One Italian Summer by Keris Stainton

It's been a year since Milly, Elyse and Leonie's dad died, and a year since their last trip to Rome. Summer's here again, and once again they are heading with their mum to Italy – but what's it going to be like going without Dad? Rome still holds its familiar charms – the sun is still as warm, the gelato as delicious, the people as welcoming. But nothing is quite as it once was …
With grief still raw for all of them, Milly is facing the additional awfulness of having to see Luke again – gorgeous, gorgeous Luke, who she had a fling with last year, and who she made a total fool of herself with – or so she thinks. What's going to happen this time? What's more, things between Milly, her sisters and their mum are rocky – Leonie is being tempestuous and unpredictable, Elyse is caught up with her new boyfriend, and Milly feels like she just doesn't know how she fits in any more.
Over one Italian summer, can Milly find a way back to the life she once had?
Inspired by Mrs Dalloway and Judy Blume's Forever, Release is one day in the life of Adam Thorn, 17. It's a big day. Things go wrong. It's intense, and all the while, weirdness approaches…
Adam Thorn is having what will turn out to be the most unsettling, difficult day of his life, with relationships fracturing, a harrowing incident at work, and a showdown between this gay teen and his preacher father that changes everything. It's a day of confrontation, running, sex, love, heartbreak, and maybe, just maybe, hope. He won't come out of it unchanged. And all the while, lurking at the edges of the story, something extraordinary and unsettling is on a collision course.
This is a story about a boy named Kester. He is extraordinary, but he doesn't know that yet. All he knows, at this very moment, is this:
1. There is a flock of excited pigeons in his bedroom.
2. They are talking to him.
3. His life will never be quite the same again…
This Is Where It Ends by Marieke Nijkamp
10:00 a.m. The principal of Opportunity High School finishes her speech, welcoming the entire student body to a new semester and encouraging them to excel and achieve.
10:02 a.m. The students get up to leave the auditorium for their next class.
10:03 a.m.The auditorium doors won't open.
10:05 a.m. Someone starts shooting.
Told from four different perspectives over the span of fifty-four harrowing minutes, terror reigns as one student's calculated revenge turns into the ultimate game of survival.